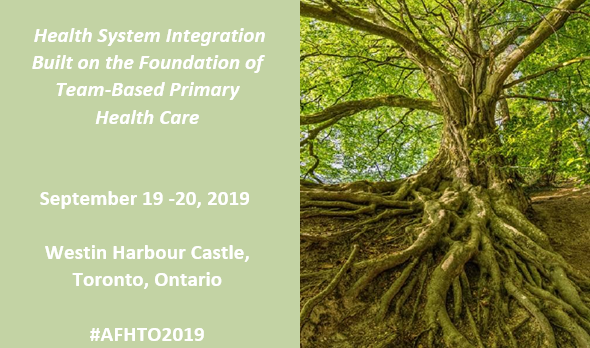 Are you:
A small, rural or Northern team?
Helping your patients live healthier lives?
Improving your community through effective partnerships and programs?
Providing truly integrated care and embodying the patient medical home?
Then your peers across the province want to hear from you! Don't wait to impart your tips and lessons learned to colleagues from all across the province under 6 core themes. Your experience is invaluable.
Now more than ever we want to ensure our sessions reflect the ever-changing health care environment and are relevant to primary health care today. This means we want to hear what's worked for you. The deadline to submit abstracts for concurrent sessions and posters is April 24, 2019 at 5:00 PM (EDT).
All are welcome. Please pass this along to your peers, colleagues and network including those from other healthcare sectors, non-profits, and the academic and research communities.
Not sure if your work is a good fit? Feel free to ask us! Email info@afhto.ca or call 647-234-8605x 200. We'd be happy to help.
Helpful links to get you started:
Reduced registration fee for concurrent session presenters: For each approved concurrent session, up to 2 presenters will each be granted a $50 discount off the conference registration fee. Additional discounts apply for patients presenting at the conference. (Discount doesn't apply for poster displays.)
Conference key dates:
April 24, 2019             Deadline to submit concurrent session and poster abstract
June 2019                   Conference registration opens
Sep 19 & 20, 2019      AFHTO 2019 Conference